Fast connections and high network quality
With over 1,000 peering, we offer one of the best connections in Germany for the secure, fast and reliable accessibility of your servers, applications and data.
High availability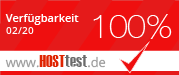 The high quality and availability of our connection is regularly confirmed by independent tests, e.g. by hosttest.de.
Top position with over 1,000 peerings
The high number of peerings of Hostserer GmbH and our presence at several Internet nodes ensures our customers optimal short package runtimes and a high connection quality incl. improved data protection and better protection against IP and route hijacking compared to a pure transit connection.
With currently over 1,000 peerings and our presence at the DE-CIX, AMSIX and E-CIX Internet nodes, we are one of the best-peered hosting providers in Germany, as the evaluation by Hurican Electric on bgp.he.net shows.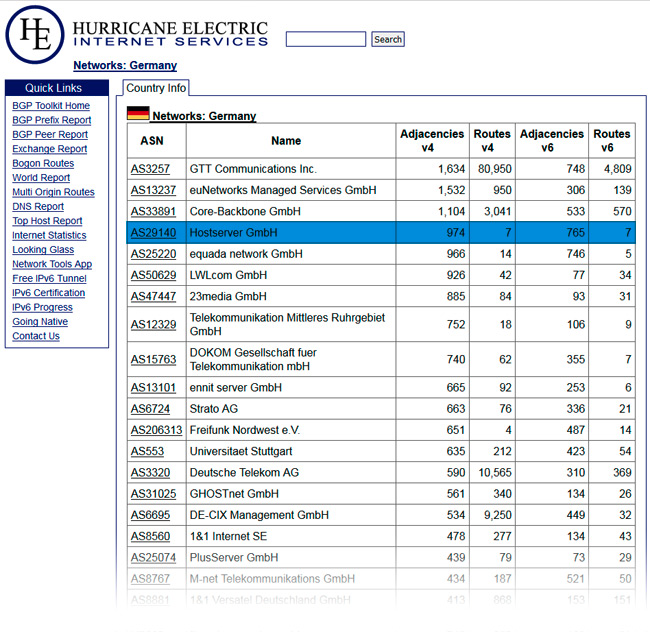 Prominent peering partners
Thanks to our open peering policy and our long-standing presence at important Internet nodes, we have peerings with many well-known and important network operators, including:
1&1,Versatel, Strato, Microsoft, Google, Amazon, Netflix, …
and over 900 other providers from Germany and Europe.
Selected transit partners
We supplement our connections with selected and innovative transit partners who generally have a worldwide network.
We use the latest routing techniques such as selective blackholing to protect our infrastructure and customers.
All information, in particular on AS, bandwidths, subscribers, peering, etc., is subject to change. Status: September 2017