Server and Cloud ISO27001 ISO 9001 IDW PS951 – our certifications
For our server and cloud customers, certifications are an important prerequisite for professional cooperation. Here you will find an overview of our current certifications.
ISO 27001 – ISMS
ISO 27001 Information Security
ISO 27001 is the leading international standard for information security. Our certification covers all sites and employees and the core processes of managed hosting and service management, as well as customer support.
Zertifikat ISO 27001:2013 / ISO 27001:2013 certificate
---
ISO 9001 – QMS
ISO 9001 Quality Management
The ISO 9001:2015 standard is an international standard for quality management systems.
Hostserver has been ISO 9001 certified since October 2011. The certification covers all employees, locations and our core processes Managed Hosting, Service Management, as well as Customer Support.
Zertifikat ISO 9001:2015 / ISO 9001:2015 certificate
---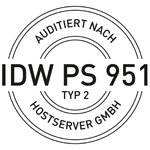 IDW PS 951 – IKS
IDW PS 951 Auditing of the Internal Control System (ICS)
Our internal control system is audited by a firm of auditors in accordance with IDW PS 951. This means that we meet even the demanding requirements of listed companies and banks when outsourcing business processes.
---

ITIL v3
ITIL – IT Infrastructure Library
Our service managers hold an "ITIL v3 Foundation" certificate.
ITIL stands for "IT Infrastructure Library" and is a collection of best practices for organising an IT service company. Internationally, ITIL is now considered the de facto standard for IT service companies.
The set of rules and definitions describes the processes, the organisational structure and the tools necessary for the operation of an IT infrastructure. The aim is to increase the economic added value for our customers through optimal IT organisation. With this goal in mind, the planning, provision, support and efficiency optimisation of IT services are closely scrutinised in terms of their benefits.
ITIL® is a registered trade mark of the Cabinet Office.
---

LPIC / LPI
LPIC – Linux Professional Institute Certification
The Linux Professional Institute Certification (LPIC) ensures an independent and broad knowledge base in the field of Linux (LPIC-1) and servers (LPIC-2). Our system administrators are generally certified according to LPIC-1 and LPIC-2.
Link: www.lpi.org
Our system administrators are usually certified according to LPIC-1 and LPIC-2.